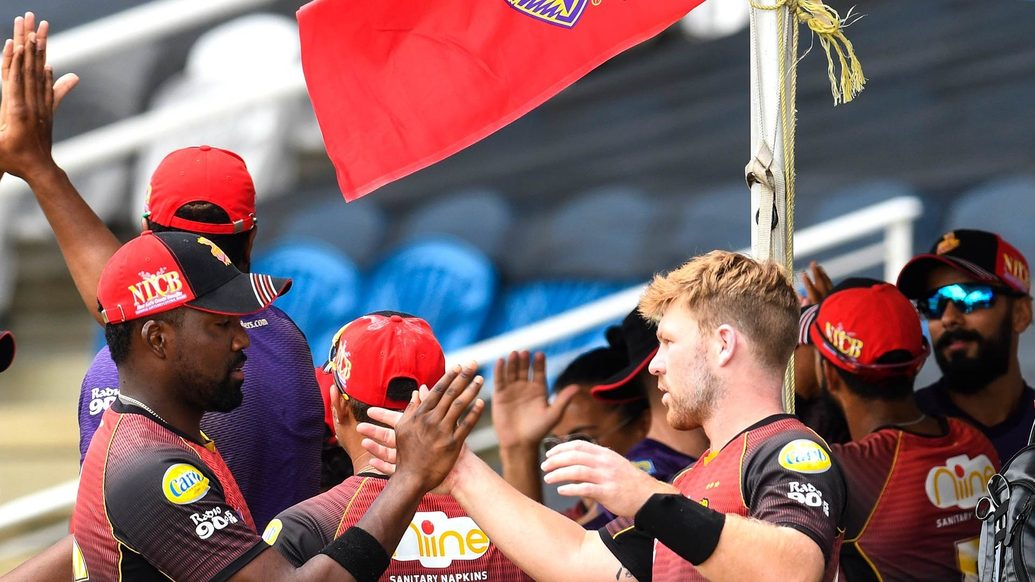 Brief Scores: Trinbago Knight Riders 111 for 1 (Simmons 54*, Webster 44* Mujeeb 1-18) beat Jamaica Tallahwahs (Bonner 41, Powell 33, Hosein 3-14, Pierre 2-29, Narine 1-13) at 107/ 7 by 9 wickets.

Toss: TKR Won, chose to field
Man of The Match: Akeal Hosein
The crucial semi-finals against the Tallawahs began on a sunny day that was about to become an absolute scorcher! The much-awaited Playing 11 was revealed by Pollard after we won the toss yet again and chose to bowl to Jamaica first.
It's reckoning time! We've won the toss of the #SemiFinals and we'll be 🎯to bowl the @JAMTallawahs all out.

Today's #Playing11 in partnership with @PlayMPL:

Pollard (C), Seifert (WK), DJ Bravo, Narine, DM Bravo, Simmons, Hosein, Pierre, Fawad, A Khan & Webster #TKRvsJT pic.twitter.com/YAbd42X9zh

— Trinbago Knight Riders (@TKRiders) September 8, 2020
Akeal Hosein lead the attack with a wicket maiden first over taking Blackwood's scalp for a duck on the fourth ball.
First over and first blood has been drawn! #Blackwood's gone for a duck and @AHosein21 has broken through @JAMTallawahs's first defence 💪

— Trinbago Knight Riders (@TKRiders) September 8, 2020
He was soon joined by childhood friend and fellow Knight, Khary Pierre, who bagged Phillips' wicket on his second ball with Ali Khan taking the catch at point. With the opening pair gone, Jamaica's defences weakened and with only 2 runs on the board, the rest of the Knights swam in for the kill. Hosein ended up bagging another wicket in the 3rd over, that of Mujeeb, thereby becoming the highest wicket taker of the match conceding only 14 runs while bowling 17 dots across 4 overs.
Just the 🔥 start we were all wishing for! The @JAMTallawahs have been restricted to 55/4 at the end of 10 overs.

— Trinbago Knight Riders (@TKRiders) September 8, 2020
In a short while, Fawad and Sunil Narine would step in two put two more wickets in the bag, with the untimely dismissal of Russel being ruled in Narine's favour by the umpire. This was of course much to the dismay of the Tallawahs who had their last hopes hanging on him. The Tallawahs ended up at 107-7 at the close of the innings.
Once again, our bowlers put on an exemplary performance! Time for our batsmen to see this through. Come on Knights💪 pic.twitter.com/ZSnabmCkVc

— Trinbago Knight Riders (@TKRiders) September 8, 2020
Lendl Simmons and Narine walked out onto the pitch with the intention of ending the match all on their own, however Mujeeb got Narine's wicket in the second over. Out came the young Tion Webster, who with 6 boundaries and a maximum brought up his 44* (off 43). His partnership with senior Knight Lendl Simmons (55* off 44) was just what was expected of a junior Knight who's being groomed to be an opener.
GOOGLY MAGIC MOMENT - Lendl Simmons and Tion Webster lead the charge to take the Trinbago Knight Riders to the Final. #CPL20 #TKRvJT #RoadToTheFinal #CricketPlayedLouder pic.twitter.com/mnzoBKRLa9

— CPL T20 (@CPL) September 8, 2020
The pair eventually brought home the victory with a flourishing boundary from Webster that almost took Simmons' head off, but cemented our spot in the finals.
Trinbago Knight Riders are in the Hero CPL 2020 Final! #CPL20 #CricketPlayedLouder #TKRvJT #RoadToTheFinal pic.twitter.com/08CBtJQSUv

— CPL T20 (@CPL) September 8, 2020
Simmons unfortunately fell short of just a single run from making CPL history as the highest run-scorer, something we're sure he'll make up for in the upcoming finals.

Kieron Pollard (On the Win and Akeal Hosein): "Getting this far now, there's still a big picture which is on Thursday. We have to keep it level, enjoy our victory as we've been doing all tournament, but still come back Thursday and play a better game than we did today. When you look at their (Tallahwahs') line-up, it's all batsmen who like the ball coming onto the bat. The pitches here in the Caribbean these days give natural variations and they have to manufacture shots. That's the reason why you saw 16 overs of spin bowling today. (On Akeal) Sometimes you need to just sit back and watch these guys. Akeal has been around a very long time. It's good to see these guys using their talent and coming onto the international scene and showing the world what they can do. Coming into this tournament, he didn't start the tournament and he was dejected, but knowing fully well what his role was going to be. He has come in and taken his opportunity and continues each and every game to improve. We haven't seen the other side of him. I think he's a better batsman than a bowler. We have come here and played fantastic cricket throughout the tournament and we need the cherry on top of it. Looking around the dressing room, you don't see overconfidence. You see guys who want to improve each and every time out."

Akeal Hosein (Man of the Match): "It's a great feeling just to be out there to be able to give 100% for my team and be able to perform as well as I did today. It was fun to bowl on. I was getting the ball to swing and spin. I've been sitting in my room telling myself I've been doing pretty decent so far and all I needed was a Man of the Match performance and I'm really glad that I can do that today."