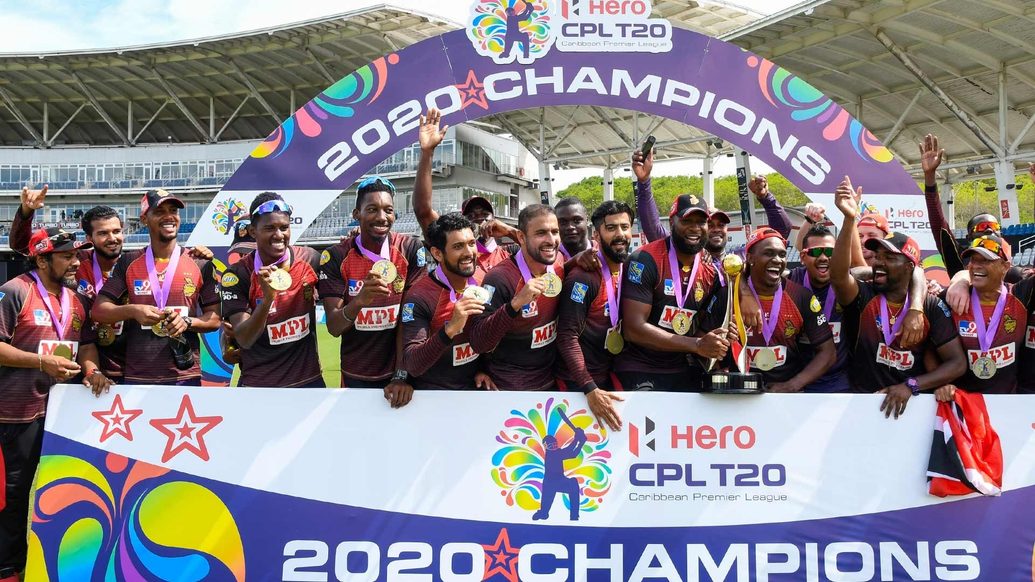 Brief Scores: Trinbago Knight Riders 157 for 2 (Simmons 84*, DM Bravo 58*, Chase 1-13, Kuggeleijn 1-30) beat St. Lucia Zouks (Fletcher 39, Deyal 29, Pollard 4-30, Fawad 2-22, Ali Khan 2-25, Hosein 1-26) at 154/10 by 8 wickets.

Toss: TKR Won, chose to field
Man of The Match: Lendl Simmons
Sun's out, guns' out! That's precisely what happened in the final of the CPL 2020 when we turned up to battle the St. Lucia Zouks. The day that started with positive vibes with a toss win, ended up finishing on a historic note. Unfortunately, Narine had to sit this one out, and he was replaced by Raza in the playing 11.
A toss win to begin with has always been good luck for us! Brace for ⚡ ⚡ spells as we bowl first today.

Today's #Playing11 in partnership with @PlayMPL:

Pollard (C), Seifert (WK), DJ Bravo, DM Bravo, Simmons, Hosein, Pierre, Fawad, A Khan, Raza & Webster #TKRvsSLZ #CPL20 pic.twitter.com/MPeETetumF

— Trinbago Knight Riders (@TKRiders) September 10, 2020
Chasing has been a mainstay for us through most of this tournament and it seems only right that we won the championship for the 4th time doing exactly that. But not before we bowled the Zouks all out. Here's how that happened! The Zouks began the innings strong, with Cornwall scoring two boundaries off Hosein in the first over, but then in came Ali Khan in the second over, who meted out instant punishment by uprooting his middle stump.
.@IamAlikhan23 is back like #TheTerminator and he's taking no prisoners 🤺 today! #Cornwall is sent back to the hut in a hurry

— Trinbago Knight Riders (@TKRiders) September 10, 2020
Deyal and Fletcher made good use of the power play scoring around 60 runs. It was near the drinks break in the 8th over when Fawad stepped into the attack and broke the dangerous partnership that was building. And then came Pollard! By the 12th over he had taken it upon himself to make short work out of the Zouks. He started by dispatching #Fletcher back to the hut.
.@KieronPollard55's fiery delivery 🔥 is too hot to handle for #Spiceman! A big blow for the Zouks!

— Trinbago Knight Riders (@TKRiders) September 10, 2020
What followed in the next 7 overs was carnage, unlike ever seen before! Pollard ended by bagging 4-30, 3 of which he bagged in a single over, Fawad 2-22, Ali Khan 2-25, Hosein 1-26 wrapping all the Zouks up in the 19th over with 5 balls to spare. Pollard's intense war cry will be remembered for a long time to come.
That intensity from @KieronPollard55 ! #CPL20 #CricketPlayedLouder #CPLFinal pic.twitter.com/JukxJ7X60v

— CPL T20 (@CPL) September 10, 2020
At the end of the first innings, the Zouks managed put up a 154 after being bowled all out.
Last 10 overs changed everything! The @Zouksonfire went from two wickets down after the first 10 overs to being bowled all out for 154 with 5 balls to spare! 155's the target and you can definitely expect some serious 🎇 as we chase this 🎯 down. pic.twitter.com/wpDKqgWGfa

— Trinbago Knight Riders (@TKRiders) September 10, 2020
Lendl and Webster came into bat. Unfortunately, we lost Webster and Seifert before they could settle in, bringing on DM Bravo. It took some time for Simmons and Bravo to settle in, with a few occasional boundaries and maximums to help the run rate within check. But once they settled in, they turned the entire chase around in a matter of a few overs.
FIFTY for Simmons! The chase is on... #CPL20 #TKRvSLZ #CPLFinal #CricketPlayedLouder pic.twitter.com/2hBuB5IsCp

— CPL T20 (@CPL) September 10, 2020
Suddenly a match that was leaning in favour of the Zouks was reclaimed by the two Knights at the crease. Lendl ended up at a formidable 84* (off 49) while Bravo's 58* came off 47 deliveries. They ended up bring the victory home in style with a boundary to wrap things up. This victory is special for many reasons, it's the first time in CPL history that a team has delivered the perfect season, clinching 12/12 matches including the finals; it's also the 4th time the Trinbago Knight Riders have won the championship, and to do all of it without the fans during a global pandemic is no easy feat.
.@TKRiders are FOUR-TIME @CPL champions! 🏆🏆🏆🏆

Trinbago make it 1️⃣2️⃣ wins from 1️⃣2️⃣ matches in CPL 2020 as they beat @Zouksonfire by eight wickets in the final #TKRvSLZ 🇹🇹🆚🇱🇨

A perfect season for the Knight Riders 👌

📋 Scorecard 👉 https://t.co/852TYk0sYd pic.twitter.com/qMfX2f4czA

— Sky Sports Cricket (@SkyCricket) September 10, 2020
To top it all off, Simmons broke another CPL record in the match, becoming the highest run scorer in CPL history, surpassing Chris Gayle.
.@54simmo enters the CPL #HallOfFame today, after surpassing the Universe Boss, Chris Gayle to become the Highest Run Scorer in CPL history 👑 This brings up the second historic moment for the Knights this season. pic.twitter.com/JLG3bMREkU

— Trinbago Knight Riders (@TKRiders) September 10, 2020
Team owner Shah Rukh Khan, sent in his best wishes congratulating the Knights on their history win too!
Ami TKR we rule. Awesome display boys...u make us proud, happy and make us party even without a crowd. Love u team.@TKRiders @54simmo and my fav @DMBravo46 well done @KieronPollard55 & my man @DJBravo47 love you how many now4!!! @Bazmccullum come to IPL lov u

— Shah Rukh Khan (@iamsrk) September 10, 2020
Kieron Pollard (on the win): Great, great feeling. We have worked really really hard. When we sat in the dressing room last year you could have seen the disappointment (after losing in the semifinals). We had rigorous conversations. And the mentality the guys came through even before the camp, this was destined to happen. They always wanted to improve every game. Total, total team effort. We knew they (Zouks) were going to come hard, they had a lot of confidence from the semi-final. But that's where we used our experience. We knew in the team Bravo wasn't going to bowl but just having him in the field was a boost. We said we're not going to play the pitch or the conditions, we're going to play the round, white ball. We knew that each time we set up the game, we will finish well. We had the power in our line-up. Each and every one who came in did their role. The guys believed in what we wanted to achieve. It would have been brilliant if the fans were here but we know what's going on (the pandemic). We hope we entertained each and every one.
Lendl Simmons (Man of the Match): Me and Bravo batted well together. We knew that if we bat deep, we'll get the score. We have a strong bench and anyone can perform well. All the players got a chance to play at parts of the tournament and all did well. Last year I did well but then didn't do well in the semi-final and we lost the game, so I wanted to take the responsibility this time. It was a good batting track.
Kieron Pollard (Man of the Tournament): This one is more special for me. I take it upon myself, I had to work on some things, had to improve my game from things that were missing in the last year and a half. And the results have been incredible. (on bowling) Some teams you play six or seven bowlers and they are main bowlers so you step aside and let them do their thing. My bowling had fallen off a bit but I know what I can do. I don't have pace, I don't have swing, but I used the angles. Me and the team know why Bravo didn't bowl but it's a psychological advantage having him on the field.